THINKING OF MOVING TO LAUDER?
Lauder is in spectacularly set on the edge of the Lammermuir hills within easy access of Edinburgh offering the best of Town and Country. It has a TD2 postcode as does the village of Oxton and the surrounding countryside.
Here's what we love about the Lauder area.
A Royal and Ancient Burgh, Lauder caters for modern requirements and buyers
Fast competing with the usual Border hotspots such as Peebles, Kelso and Melrose, Lauder is gaining momentum in term of popularity. It is the rising star hitting all the right notes for both country aspect and demands of modern life for the commuter.  It finds a harmonious balance for work and family living.
The history……
Lauder lies on the edge of the rolling Lammermuir Hills, in the valley of the Leader Water. It's historical ties existed in the latter half of the twelfth century; when it had two major mills and was likely surrounded by walls with gates commonly referred to as 'ports'. Geographically, its position has been significant throughout history.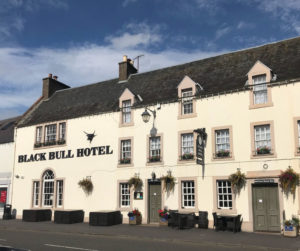 In Roman times Lauder was the main route north from England. In the 19th century the town's former coaching inns – nowadays better known as The Black Bull Hotel and The Eagle Hotel – provided food and shelter for horse-driven travellers on one of the oldest roads between Scotland and England.Now, in the 21st century, the A68 makes it possible for Lauder residents to commute north to Edinburgh and south into the north of England. The town's easy access to the south side of Edinburgh makes it an attractive alternative for city commuters. It is a prime example of the typical Scottish Burgh, a title created by Royal Charter before 1500 and renewed by James IV in 1502.
The town has notable architecture and buildings.
The Town Hall was formerly the town Tolbooth where tolls were paid by passing travelers. The present building dates from 1735 and also served as a jail and court. The building was last used as a prison in 1840. Nowadays it serves a happier function as the Burgh Registrar's Office where civil marriages take place!
To the kirk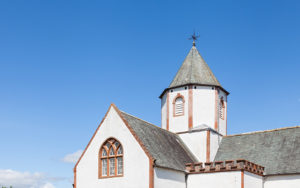 Lauder Old Parish Church is unique as it is the only cruciform church of its type in Scotland. It was designed by Sir William Bruce for the Duke of Lauderdale in 1673 to replace the previous church which was situated on the present site of Thirlstane Castle. It uses much of the old stone in the building and it's design takes the form of a Greek cross with the pulpit in the centre, underneath an octagonal bell tower. The old numbered box pews are still in use and the A-listed church is open to the public most days.
The crowning glory of Lauder belongs to the beautiful Thirlestane Castle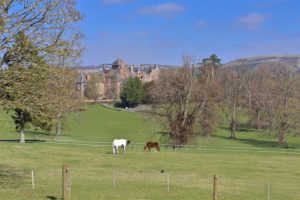 The castle's central turreted block dates from 1590 and is built in the centre of a large English artillery fortification. Altered in 1840, the castle is noted for its amazing plasterwork. Interestingly, Sir Walter Scott's character, 'Auld Maitland', is said to be Sir Richard Maitland of Thirlstane, who owned the estate in 1250. Thirlestane Castle is a major landmark and attraction for the village. The Seat of the Earls of Lauderdale is now a stunning wedding and events venue and offers the opportunity of holidaying in the renovated accommodation and grounds.
The butcher, the baker, the candlestick maker….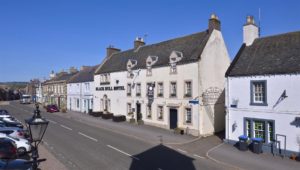 For a small market town Lauder offers an excellent variety of independent, and trending, amenities and retailers; from the Firebrick baker, grocer, coffee house, deli, butcher, hotels & bars, and a fruit shop, you really never need leave town! In addition, some fantastic eateries have popped up catering for tastes ranging from former-city-slicker to cozy family Sunday lunch.
House styles have followed this diversity. There are two prominently modern developments sitting to the edge of town but the market place and high street still retain their charm with a colorful range of characterful stone-built properties.
For the bairns
There has been a school in Lauder since 1863, and in 2009 a new purpose-built primary school was opened in Allanbank Gardens. Also cutting the red tape in in 2009, the nearby secondary, Earlston High School, is also widely acclaimed and regarded (It has even featured in Tatler magazine!). In addition, Lauder has lots for little ones to do; with an out of school club and nursery, and everything from Brownies and Guides, Karate and Scouts and tennis and golf instruction. Grown ups are well looked after too, and can enjoy everything from bowling to amateur dramatics, a community choir, basketball, running, football and rugby clubs, tennis and volleyball, the latter one of the many activities held in the town's Leader Leisure Centre on Old Causeway, a multi-use sports facility.
The local housing market reflects Lauder's appeal as a place to live, especially with commuters.
With the town's property mix of characterful traditional and recently built modern styles there's plenty of choice for home buyers.
So why Lauder?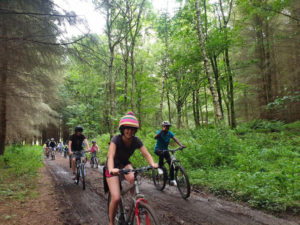 The town is bustling through the summer months, with the Annual Common Riding which is a wonderful week long spectacular largely featuring horses. However there's plenty for footed spectators including sports day, party in the park and a ball. The more recently established Tour De Lauder is for riders preferring two wheels, and equally as well supported raising funds for local charity.
At a slower pace, there is no end to the many trails and walks, whether they be over hill or by waterside, or joining the Southern Upland way. Wooplaw Community Woodland is a particularly special and tranquil spot – with 55 acres of ponds, paths, sculptures, trails and buildings, it's a wonderful place to explore, or escape, to.
Everything feels close at hand in Lauder – facilities, nature, amenities, peace and quiet, activities – and this is part of the charm and popularity of the traditional town. SO whether you're in the market for a four bed family new built or a converted mill steading, let Lauder, the ancient but recently crowned commuter champion, may be the perfect fit!
Ron Hastings, says:
"Lauder is a true Border town with the benefit of easy commuting to Edinburgh. As such it attracts those who are looking for a country lifestyle and are still hooked on the city delights for work or pleasure.
The town benefits from a distinctive Borders character, with its mid-steeple and attractive shops and cafes. As with most lineal towns and villages, you only really appreciate what is on offer if you stop and explore – and with delights such as Thirlestane Castle and the rolling Borders hills and Lauder Common on the doorstep, it's easy to see why Lauder has proved attractive to buyers.
Many of the older buildings in the town centre have a long history linked to the castle and for buyers looking for a period property there are plenty on offer. Modern houses also sell well and this is one of the faster growing areas in the Borders. It's also a top location for investing in a buy-to-let property to serve the booming private rental sector.
Again, that all-important easy commute to Edinburgh makes it a attractive location all round."
If you are buying in Scotland you will need a Scottish Solicitor.
If you are selling, Hastings Legal are the top-selling Solicitor Estate Agents in the Borders.
With a Solicitor/Estate Agent you have more control of the process.
With our unique No Key, No Fee deal, if your offer is unsuccessful – don't worry – we won't charge you legal fees.www.NoKeyNoFee.com
To find out what Hastings Legal
can do to help you find your ideal home or your ideal buyer give us a call or pop in to one of our offices in Kelso, Duns, Selkirk and Eyemouth.
It's never too early to call Hastings Legal, your dedicated Borders firm of Solicitors and Estate Agents.
Here for you in the Scottish Borders.
Links
---