Real Life or Virtual Reality?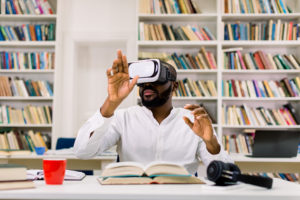 Virtual reality is not new – the technology was invented in the 1950s, although the first headset was created in 1968 by an American computer scientist using photographs of a car driving through the city.
This use of first-person interactivity suggested VR could transport people to other places – and at that point the genie was out of the bottle.
To date, VR's applications within the property sector has proved enormously advantageous.
Fortunately the technology we use doesn't require a special head-set; it is a video walk-through, sometimes with overhead drone views, that viewers can see on their computer, tablet or smart phone. It has been beneficial to prospective buyers, sellers and estate agents by facilitating a more detailed, life-like viewing of homes remotely. It also allows house builders to give interested buyers a virtual tour to demonstrate what a new home will look like once it's finished – before construction has even got off the ground. Some house builders take it further and used VR technology to replace furnished showhomes.
It was the Covid19 lockdown that really highlighted VR's pivotal role within the property sector.
For many people the prolonged stint at home provided time to reassess their home and location priorities – and where they fell short, start searching for their next property. With real-time viewing out of the question, VR technology substituted by giving viewers a 360-degree tour of the inside and outside of a property. Used in conjunction with drone footage, which gives an aerial perspective of a property within its setting, this dynamic duo enables multiple tours of properties from the comfort of an armchair and can therefore whittle down a shortlist of homes to personally view later. This is especially beneficial for people with limited mobility for whom travelling is difficult, as well as those planning a move to a different region or country, if it's a move from south of the border.
Of course, as with all things, VR and drone technology is not a level playing field and the quality, both in terms of equipment and the skills of the operators using it, varies enormously. But done by experts it's a key marketing incentive – one that top Borders estate agent Hastings Legal, uses to maximum effect with professional photography and VR tours for homes ranging in value from just over £50,000 to those at the top end of the price spectrum, such as The Stiel, an outstanding recently listed country property with a riverside setting in the Yarrowford valley near Selkirk, for sale at offers overs £625,000. Visit our Video Tours Page to see the full list of properties with VR tours.
Virtual Viewings have proved their worth.
More commonly associated with gaming, VR is a win-win for buying and selling homes given that 85% of prospective buyers start their property search online. Beautifully-presented properties that stand out from the rest and incorporate top quality photography and video technology, will be more memorable, attract more hits, and maximise a home's desirability and ultimately, its sale outcome – all without leaving home. Sellers also benefit, as VR cuts down the number of nosey-parker viewers (they too can look online!) and allows sellers and agents to present a home in daylight conditions when it is looking its best and focus on genuine buyers when it comes to the real thing.
VR opens doors instantly, without having to take time off or make appointments – and 360-degree tours can be viewed at any time of day or night, and on any device, including mobile phones. Many tours also include a floorplan to enable the viewer to better understand the space, while background music or sound effects can also be used to create ambience. It offers a much more realistic view of a property online when compared to regular images.
While it's extremely unlikely the virtual world will ever truly rival the real experience, VR has certainly proved its place within the property profession.
If you are buying in Scotland you will need a Scottish Solicitor.
If you are selling, Hastings Legal are the top-selling Solicitor Estate Agents in the Borders.
With a Solicitor/Estate Agent you have more control of the process
and because of our unique  No Key No Fee policy you are shielded from the legal costs if your property sale or purchase fails to materialise.
To find out what Hastings Legal can do to help you find your ideal home or your ideal buyer give us a call or pop in to one of our offices in Kelso, Duns, Selkirk and Eyemouth.
See our guides: Buying a House and Selling your House Legal Process
⇒ See this excellent article by Edinburgh Solicitors Property Centre about the benefits of using a Solicitor led Estate Agent ⇒
It's never too early to call Hastings Legal, your dedicated Borders firm of Solicitors and Estate Agents.
Here for you in the Scottish Borders
"As Solicitor Estate Agents we go all out to sell your home "Hastings Legal Lab
Contact Us
ARTICLES ABOUT BUYING AND SELLING IN THE SCOTTISH BORDERS